2014's Fastest Growing Cities
Written by Richie Bernardo. Published Thursday, September 25, 2014 on Wallethub.com.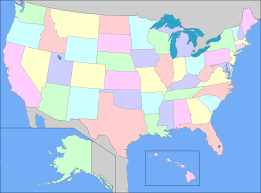 Some cities have it all: the jobs, the schools, the museums, the nightlife, you name it. They know the recipe for attractiveness. People come, and they stay — sometimes for good. But other cities like Detroit are still mired in recession. Chances of soon turning upward are slim. And their most productive citizens, an economy's best chance of recovery, search for greener pastures.
In 2013, the United States experienced its lowest population gain since the Great Depression. Growth stood at .72 percent, largely in contrast with the 5 percent of the 1990s, a period of prosperity. Demographer William H. Frey of the Brookings Institution attributed the decline to the economic downturn. Not only did the crisis deter job-seeking migrants from flocking to the U.S., but it also discouraged couples from having children. Meanwhile, movement took place domestically. Population numbers shifted. Some cities grew while others pushed out even more residents.
WalletHub identified the cities that have expanded most rapidly in socio-economic terms between 2008 and 2013. We analyzed 516 U.S. cities of varying sizes across 10 key metrics, ranging from population growth rate to unemployment rate decrease. The results of our study, as well as additional insight from experts and a detailed methodology, can be found below.
| Overall Rank | Large City Name | Medium-Size City Name | Small City Name |
| --- | --- | --- | --- |
| 1 | Austin, TX | Irving, TX | Mission, TX |
| 2 | Fort Worth, TX | North Charleston, SC | Edinburg, TX |
| 3 | New Orleans, LA | East Los Angeles, CA | Springdale, AR |
| 4 | Denver, CO | Murfreesboro, TN | Pharr, TX |
| 5 | San Antonio, TX | San Angelo, TX | Concord, NC |
| 6 | Corpus Christi, TX | Grand Prairie, TX | Greenville, NC |
| 7 | Washington, DC | Columbia, MO | Asheville, NC |
| 8 | Bakersfield, CA | Charleston, SC | League City, TX |
| 9 | Oklahoma City, OK | Frisco, TX | New Rochelle, NY |
| 10 | Columbus, OH | Killeen, TX | Lynn, MA |
| 11 | Omaha, NE | Round Rock, TX | Bryan, TX |
| 12 | Nashville, TN | Odessa, TX | Redwood City, CA |
| 13 | El Paso, TX | Midland, TX | Allen, TX |
| 14 | Portland, OR | College Station, TX | Missoula, MT |
| 15 | Minneapolis, MN | Clarksville, TN | Trenton, NJ |
| 16 | Pittsburgh, PA | Fargo, ND | Clovis, CA |
| 17 | Houston, TX | Oxnard, CA | North Richland Hills, Texas |
| 18 | Raleigh, NC | Fremont, CA | Indio, CA |
| 19 | Anchorage, AK | Fayetteville, NC | Clifton, NJ |
| 20 | Seattle, WA | Waco, TX | Manteca, CA |
| 21 | Aurora, CO | Laredo, TX | Lawrence, MA |
| 22 | Philadelphia, PA | Pearland, TX | Tuscaloosa, AL |
| 23 | Oakland, CA | Santa Clara, CA | Union City, NJ |
| 24 | Louisville, KY | Amarillo, TX | Rapid City, SD |
| 25 | San Jose, CA | McKinney, TX | Muncie, IN |
| 26 | Dallas, TX | Columbia, MD | Mountain View, CA |
| 27 | Miami, FL | Bridgeport, CT | Wyoming, MI |
| 28 | Fresno, CA | Greensboro, NC | Bloomington, MN |
| 29 | Boston, MA | Saint Paul, MN | Brooklyn Park, MN |
| 30 | San Francisco, CA | Brandon, FL | Passaic, NJ |
| 31 | Charlotte, NC | Savannah, GA | Scranton, PA |
| 32 | Kansas City, MO | Columbia, SC | Duluth, MN |
| 33 | Cleveland, OH | Lewisville, TX | Bloomington, IN |
| 34 | Baltimore, MD | Fort Collins, CO | Lawrence, KS |
| 35 | Colorado Springs, CO | Sunnyvale, CA | Fayetteville, AR |
| 36 | San Diego, CA | Richmond, VA | Somerville, MA |
| 37 | Lexington, KY | Lubbock, TX | Meridian, ID |
| 38 | Albuquerque, NM | Grand Rapids, MI | New Bedford, MA |
| 39 | Santa Ana, CA | Denton, TX | O Fallon, MO |
| 40 | Arlington, TX | Kent, WA | Canton, OH |
| 41 | Tampa, FL | Costa Mesa, CA | Deerfield Beach, FL |
| 42 | Anaheim, CA | Durham, NC | Bellingham, WA |
| 43 | Tulsa, OK | San Mateo, CA | Santa Barbara, CA |
| 44 | New York, NY | Tyler, TX | Quincy, MA |
| 45 | Honolulu, HI | Miramar, FL | Saint Cloud, MN |
| 46 | Jacksonville, FL | Antioch, CA | Iowa City, IA |
| 46 | Riverside, CA | Cedar Rapids, IA | Edmond, OK |
| 48 | Detroit, MI | Norman, OK | Saint Joseph, MO |
| 49 | Los Angeles, CA | Brownsville, TX | Boynton Beach, FL |
| 50 | Chicago, IL | Sioux Falls, SD | Carmel, IN |
| 51 | Saint Louis, MO | Wilmington, NC | Hammond, IN |
| 52 | Atlanta, GA | Las Cruces, NM | Gastonia, NC |
| 53 | Memphis, TN | Daly City, CA | New Britain, CT |
| 54 | Virginia Beach, VA | Boulder, CO | Palm Coast, FL |
| 55 | Indianapolis, IN | Murrieta, CA | Fishers, IN |
| 56 | Long Beach, CA | Orlando, FL | Sugar Land, TX |
| 57 | Phoenix, AZ | Bellevue, WA | San Leandro, CA |
| 58 | Wichita, KS | Cambridge, MA | Albany, NY |
| 59 | Tucson, AZ | Gilbert, AZ | Mount Pleasant, SC |
| 60 | Milwaukee, WI | Elk Grove, CA | Boca Raton, FL |
| 61 | Sacramento, CA | Pomona, CA | Bloomington, IL |
| 62 | Las Vegas, NV | Lafayette, LA | Rock Hill, SC |
| 63 | Mesa, AZ | McAllen, TX | Hawthorne, CA |
| 64 | | Madison, WI | Kalamazoo, MI |
| 65 | | Norfolk, VA | Town 'n' Country, FL |
| 66 | | Lowell, MA | Plantation, FL |
| 67 | | Tallahassee, FL | Suffolk, VA |
| 68 | | Aurora, IL | Cheektowaga, NY |
| 69 | | Enterprise, NV | Greeley, CO |
| 70 | | Jersey City, NJ | Cranston, RI |
| 71 | | Kansas City, KS | Hemet, CA |
| 72 | | Hollywood, FL | Alhambra, CA |
| 73 | | Roseville, CA | Norwalk, CT |
| 74 | | Clearwater, FL | San Marcos, CA |
| 75 | | Lincoln, NE | Waterloo, IA |
| 76 | | Winston-Salem, NC | Livonia, MI |
| 77 | | Chula Vista, CA | Chico, CA |
| 78 | | Rochester, NY | Livermore, CA |
| 79 | | Salinas, CA | Camden, NJ |
| 80 | | Rochester, MN | Warwick, RI |
| 81 | | Hayward, CA | Largo, FL |
| 82 | | Huntsville, AL | Reading, PA |
| 83 | | Providence, RI | Fort Myers, FL |
| 84 | | Fort Lauderdale, FL | Longmont, CO |
| 85 | | Worcester, MA | Toms River, NJ |
| 86 | | Plano, TX | Apple Valley, CA |
| 87 | | Green Bay, WI | Eau Claire, WI |
| 88 | | Salem, OR | Loveland, CO |
| 89 | | Pasadena, CA | Union City, CA |
| 90 | | Warren, MI | Lake Forest, CA |
| 91 | | Ventura, CA | Nampa, ID |
| 92 | | Surprise, AZ | Farmington, MI |
| 93 | | Santa Maria, CA | Layton, UT |
| 94 | | West Palm Beach, FL | Milpitas, CA |
| 95 | | Billings, MT | Fort Smith, AR |
| 96 | | Arvada, CO | Roanoke, VA |
| 97 | | Thousand Oaks, CA | South Gate, CA |
| 98 | | Fontana, CA | Redondo Beach, CA |
| 99 | | Buffalo, NY | Cicero, IL |
| 100 | | Allentown, PA | Yakima, WA |
| 101 | | Tacoma, WA | Buena Park, CA |
| 102 | | Arlington, VA | Mission Viejo, CA |
| 103 | | Berkeley, CA | Mount Vernon, NY |
| 104 | | Temecula, CA | Turlock, CA |
| 105 | | Cary, NC | Flower Mound, TX |
| 106 | | Yonkers, NY | Vista, CA |
| 107 | | Abilene, TX | Rio Rancho, NM |
| 108 | | Syracuse, NY | Tracy, CA |
| 109 | | Everett, WA | Lynchburg, VA |
| 110 | | Downey, CA | Framingham, MA |
| 111 | | Olathe, KS | Beaverton, OR |
| 112 | | Palmdale, CA | Lawton, OK |
| 113 | | Augusta, GA | Brockton, MA |
| 114 | | High Point, NC | Vacaville, CA |
| 115 | | Thornton, CO | Merced, CA |
| 116 | | Newark, NJ | Westminster, CA |
| 117 | | Des Moines, IA | Kenner, LA |
| 118 | | Richardson, TX | Lynwood, CA |
| 119 | | Metairie, LA | Upland, CA |
| 120 | | Eugene, OR | Medford, OR |
| 121 | | Port Saint Lucie, FL | Sioux City, IA |
| 122 | | Independence, MO | Miami Beach, FL |
| 123 | | Rialto, CA | Melbourne, FL |
| 124 | | Columbus, GA | Baldwin Park, CA |
| 125 | | Knoxville, TN | Compton, CA |
| 126 | | Gresham, OR | Lake Charles, LA |
| 127 | | Dayton, OH | Newton, MA |
| 128 | | Elgin, IL | Sunrise, FL |
| 129 | | Santa Rosa, CA | Jacksonville, NC |
| 130 | | Erie, PA | Sandy Springs, GA |
| 131 | | Rancho Cucamonga, CA | Federal Way, WA |
| 132 | | Irvine, CA | Arlington Heights, IL |
| 133 | | Reno, NV | Danbury, CT |
| 134 | | Oceanside, CA | Racine, WI |
| 135 | | Toledo, OH | Lorain, OH |
| 136 | | Pasadena, TX | Weston, FL |
| 137 | | Hartford, CT | Pawtucket, RI |
| 138 | | Paradise, NV | Sparks, NV |
| 139 | | Athens-Clarke, GA | Appleton, WI |
| 140 | | Salt Lake City, UT | Napa, CA |
| 141 | | Mesquite, TX | Avondale, AZ |
| 142 | | Visalia, CA | Parma, OH |
| 143 | | Highlands Ranch, CO | Schaumburg, IL |
| 144 | | Davenport, IA | Bethlehem, PA |
| 145 | | Beaumont, TX | Santa Monica, CA |
| 146 | | Overland Park, KS | Waukesha, WI |
| 147 | | Saint Petersburg, FL | Davie, FL |
| 148 | | Little Rock, AR | Dothan, AL |
| 149 | | Gainesville, FL | Wilmington, DE |
| 150 | | Springfield, MO | Bend, OR |
| 151 | | Garland, TX | Gulfport, MS |
| 152 | | Baton Rouge, LA | Whittier, CA |
| 153 | | Hialeah, FL | Redlands, CA |
| 154 | | Lansing, MI | Hillsboro, OR |
| 155 | | Manchester, NH | Waukegan, IL |
| 156 | | Rockford, IL | Folsom, CA |
| 157 | | Simi Valley, CA | Bolingbrook, IL |
| 158 | | West Covina, CA | Rochester, MI |
| 159 | | Victorville, CA | Youngstown, OH |
| 160 | | Ann Arbor, MI | Ellicott City, MD |
| 161 | | Torrance, CA | Ogden, UT |
| 162 | | Spring Hill, FL | Alameda, CA |
| 163 | | Boise, ID | Longview, TX |
| 164 | | El Cajon, CA | Hoover, AL |
| 165 | | Cincinnati, OH | Missouri City, TX |
| 166 | | West Valley, UT | Chino Hills, CA |
| 167 | | Lehigh Acres, FL | Santa Fe, NM |
| 168 | | Carlsbad, CA | Flint, MI |
| 169 | | Broken Arrow, OK | Sandy, UT |
| 170 | | Cape Coral, FL | Saint George, UT |
| 171 | | Stockton, CA | Tustin, CA |
| 172 | | Chesapeake, VA | Champaign, IL |
| 173 | | New Haven, CT | Silver Spring, MD |
| 174 | | Fullerton, CA | Spokane Valley, WA |
| 175 | | Carrollton, TX | Orem, UT |
| 176 | | Alexandria, VA | Bellflower, CA |
| 177 | | Springfield, IL | Dearborn, MI |
| 178 | | Peoria, IL | Lauderhill, FL |
| 179 | | Joliet, IL | Chino, CA |
| 180 | | Pueblo, CO | Arden-Arcade, CA |
| 181 | | Shreveport, LA | Gary, IN |
| 182 | | Springfield, MA | Plymouth, MN |
| 183 | | Chandler, AZ | Kenosha, WI |
| 184 | | Pembroke Pines, FL | Roswell, GA |
| 185 | | Palm Bay, FL | Deltona, FL |
| 186 | | Akron, OH | Troy, MI |
| 187 | | Moreno Valley, CA | East Orange, NJ |
| 188 | | Sterling Heights, MI | Portsmouth, VA |
| 189 | | Lakeland, FL | Lees Summit, MO |
| 190 | | Modesto, CA | Pleasanton, CA |
| 191 | | Evansville, IN | Citrus Heights, CA |
| 192 | | Garden Grove, CA | Albany, GA |
| 193 | | Pompano Beach, FL | Yuma, AZ |
| 194 | | San Bernardino, CA | Carson, CA |
| 195 | | West Jordan, UT | Baytown, TX |
| 196 | | Birmingham, AL | Westland, MI |
| 197 | | Mobile, AL | Evanston, IL |
| 198 | | Escondido, CA | Newport Beach, CA |
| 199 | | Chattanooga, TN | Decatur, IL |
| 200 | | Westminster, CO | Hesperia, CA |
| 201 | | Topeka, KS | Fall River, MA |
| 202 | | Wichita Falls, TX | Lakewood, CA |
| 203 | | Orange, CA | Palatine, IL |
| 204 | | Stamford, CT | Redding, CA |
| 205 | | Ontario, CA | Southfield, MI |
| 206 | | El Monte, CA | Nashua, NH |
| 207 | | Provo, UT | Macon, GA |
| 208 | | Tempe, AZ | Yorba Linda, CA |
| 209 | | Spring Valley, NV | Kendall, FL |
| 210 | | Vancouver, WA | Skokie, IL |
| 211 | | Elizabeth, NJ | |
| 212 | | Fairfield, CA | |
| 213 | | Montgomery, AL | |
| 214 | | Concord, CA | |
| 215 | | Richmond, CA | |
| 216 | | South Bend, IN | |
| 217 | | Jackson, MS | |
| 218 | | Corona, CA | |
| 219 | | Paterson, NJ | |
| 220 | | Peoria, AZ | |
| 221 | | Lakewood, CO | |
| 222 | | Norwalk, CA | |
| 223 | | Santa Clarita, CA | |
| 224 | | Lancaster, CA | |
| 225 | | Newport News, VA | |
| 226 | | Spokane, WA | |
| 227 | | Huntington Beach, CA | |
| 228 | | Scottsdale, AZ | |
| 229 | | Henderson, NV | |
| 230 | | Vallejo, CA | |
| 231 | | Naperville, IL | |
| 232 | | Burbank, CA | |
| 233 | | Miami Gardens, FL | |
| 234 | | Fort Wayne, IN | |
| 235 | | Glendale, CA | |
| 236 | | Coral Springs, FL | |
| 237 | | Hampton, VA | |
| 238 | | North Las Vegas, NV | |
| 239 | | Centennial, CO | |
| 240 | | Glendale, AZ | |
| 241 | | Waterbury, CT | |
| 242 | | Inglewood, CA | |
| 243 | | Sunrise Manor, NV | |