Craft store to open at former Mervyn's location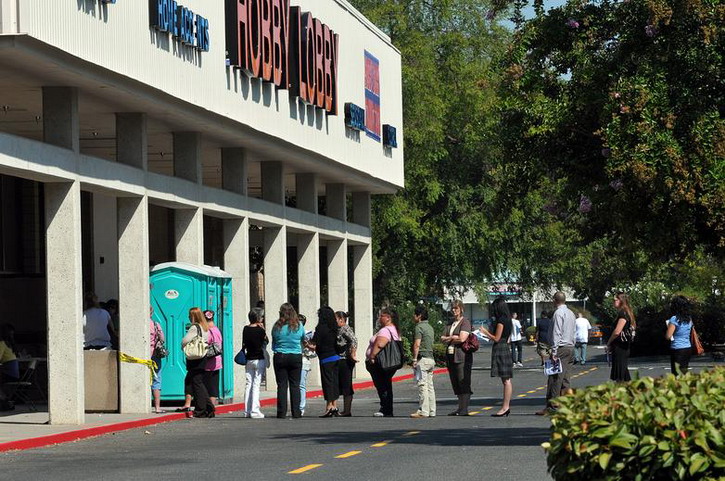 BY JOHN COX Californian staff writer jcox@bakersfield.com
The former Mervyns building on California Avenue is getting its first tenant in nearly five years: a crafts store.
Oklahoma-based Hobby Lobby has signed a lease to occupy about 55,000 square feet on the southern portion of the building, or roughly half its floor space, said the landlord's representative in Bakersfield, commercial real estate broker Anthony Olivieri.
Increase in Kern's Housing Asking Prices 6th Highest in U.S.
Increase in Kern's Housing Asking Prices 6th Highest in U.S.
May 9, 2013
Asking prices for housing in Kern County increased 19% year-over-year in March, according to findings released Tuesday. Kern's increase was the sixth highest rate among the nation's 100 largest metro areas.
The Trulia Price Monitor and Trulia Rent Monitor take into account changes in the mix of listed homes and reflect trends in prices and rents for similar homes in similar neighborhoods through April 30, 2013.
Read more: Increase in Kern's Housing Asking Prices 6th Highest in U.S.
Kern 2nd Highest Paying Area in Central Valley
May 1, 2013
Excerpted from
On Numbers
Kern County is the second highest-paying area in the Central Valley, according to an analysis of newly released compensation data for 816 occupations.
The business blog On Numbers examined data from the U.S. Bureau of Labor Statistics, which produces annual wage estimates for more than 800 individual occupations. Below are the average annual pay levels for all employees within the five Central Valley metro areas, along these areas' rankings among the nation's 104 major markets.
These figures indicate the average salaries for all workers in all lines of work, taken collectively; the Bakersfield metro area includes all of Kern County.
Sacramento (12) $51,620
Bakersfield (51) $44,150
Stockton (56) $43,470
Modesto (60) $42,930
Fresno (77) $41,200
For a complete listing of all 104 major metros nationwide: http://www.bizjournals.com/bizjournals/on-numbers/scott-thomas/2013/04/here-are-the-highest-paying-markets.html?page=all
Kern No. 1 Kern No. 1 in CA for 10-Year Total Personal Income Growth
January 23, 2013
Excerpted from On Numbers
Kern County ranks first among California counties in total personal income (TPI) growth between 2001 and 2011, according to an analysis released today by the business blog On Numbers.
In 2011, Kern's TPI rose 75% over 2001, the largest rate among the 32 California counties analyzed.
TPI is the amount of money earned by all people within a given area during a given year. It is a powerful barometer of economic growth, because it is directly affected by increases in population and per capita income.
The analysis involved all counties with more than $5 billion TPI in 2011, the latest year for which figures are available from the U.S. Bureau of Economic Analysis.
A listing of those 32 California counties is below: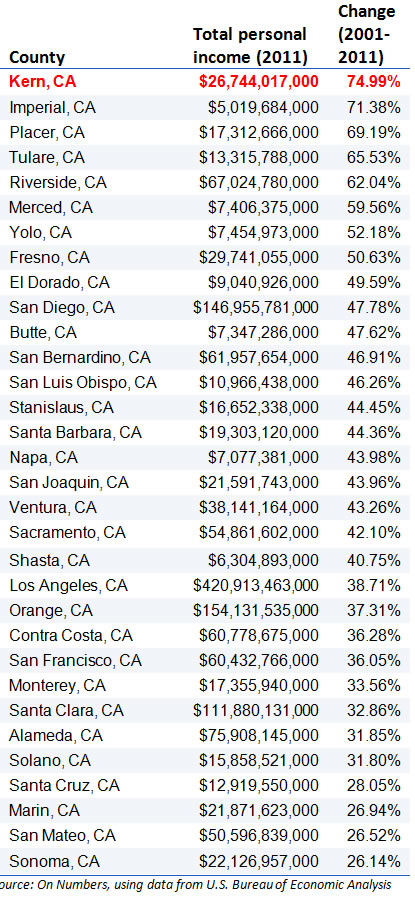 Kern No. 3 in Housing Price Gains Forecast
January 8, 2013
Kern County is expected to see the third highest gains in housing prices nationwide this year, according to a forecast released today by Clear Capital.
In its Home Data Index Market Report, Clear Capital forecasts Kern housing prices to increase 7.9% over 2013. The only metros with higher expected housing price gains are Seattle and Birmingham.
Din of hammers, oil wells signal Bakersfield boom
Posted: 12/29/2012 05:01:46 AM MST
By TRACIE CONE Associated Press
BAKERSFIELD, Calif.—For most of its existence, Bakersfield has inhabited that awkward in-between place. Not as sophisticated as Los Angeles, just over the Tehachapi Mountains to the south, not as wealthy as its longtime economic rival Fresno, equidistant to the north.
But as many communities continue to struggle economically, good things are happening in this place best known for endless oil fields and the "Bakersfield Sound"—a twangy style of steel guitar music made popular by hometown country crooners Buck Owens and Merle Haggard.
Bakersfield and surrounding Kern County find themselves in lofty positions on key national lists measuring economic vitality: No. 1 metro area for long-term private sector job growth, No. 1 county for construction gains and No. 1 large metro area for annual economic growth.
Cheap land, affordable housing, proximity to Los Angeles, a location that's within a three-hour drive of 90 percent of the state's population, and a planning department that doesn't throw up roadblocks are driving the region's economic revolution, business leaders say.
Caterpillar's new parts distribution center at the confluence of Interstate 5 and Highway 99, the state's two major north-south transportation arteries, went from handshake to grand opening last August in just eight months. It joined 35 other logistics centers near there such as Ikea, Frito Lay, Dollar General, Famous Footwear and Target, drawn to the county because it is a one-day turnaround for truckers delivering from San Francisco to San Diego.
The demand for industrial and office space has left Kern County with little inventory.
"Everything is moving," said David Wagner, contractor Wallace & Smith's superintendent on a 28,000-square-foot business complex that's now a skeleton of I-beams. "The developer already has tenants for this and it won't open until April."
Read more: Din of hammers, oil wells signal Bakersfield boom
Building Fuels Inland Boom
Bakersfield Is Helping Lead California's Construction Sector Out of the Slump
December 11, 2012, 6:57 p.m. ET
By JIM CARLTON
BAKERSFIELD, Calif.—This Central Valley oil town, once hard-hit by the sluggish economy and housing slowdown, is helping lead a resurgence in California's construction industry and providing a hopeful sign for many of the state's inland areas.
During the housing boom, lower-cost inland areas like Bakersfield, Modesto and the Inland Empire east of Los Angeles saw home construction surge, only to crash when lending dried up, leaving huge amounts of unsold inventory. But the industry appears on the mend, with construction employment up year-over-year statewide every month since February amid growth in the technology, energy and international-trade industries, among other factors.
Matt Towery, a 54-year-old home builder, will build 50 homes here this year, versus 24 last year. He is taking his family out to eat more often and plans to buy a replacement soon for a Ford F-350 pickup truck that is nearly 10 years old. "We were stung so hard, it's taken us a long time to come back," Mr. Towery said at a new-home site in late November.
In October, construction employment in California increased by 27,700 jobs, or 5% from a year earlier, according to the Associated General Contractors of America, a trade group. California's unemployment in October fell to 10.1% from 11.5% a year earlier, according to the U.S. Bureau of Labor Statistics.
While the construction recovery in the state is broad-based, the hottest market is Bakersfield, a city of about 350,000 more than 100 miles north of Los Angeles. Surrounding Kern County is one of the biggest oil-producing places in the country, with nearly 40,000 working wells—many within the city itself—that account for the bulk of California's crude output. The city also has become a hub for warehouses and industrial parks that serve Southern California.
Commercial and residential construction jobs in the Bakersfield metro area rose 5% in October from a year earlier, one of the strongest growth rates in the nation, according to the contractors' group. After losing 40,000 total jobs—including 39% of construction jobs—between 2007 and 2010, the Bakersfield area has regained all but about 3,000, according to state data. Construction employment is running 2,800 jobs, or 15%, below 2007 levels.
"It's not any one thing, but a lot of things adding up," said John Emery, dean of the school of business and public administration at California State University, Bakersfield. "It's a great time to be here."
Colliers: Portland office, industrial vacancies among tightest in U.S.
Wendy Culverwell , Business Journal staff writer
Date: Thursday, November 8, 2012, 10:30am PST
Portland's office space market remains among that nation's tightest, according to a new report from Colliers International.
Portland's downtown office space tends to attract all the attention, but by one measure, suburban office space is doing just fine.
Portland has one of the tightest office space markets both in downtown and the suburbs, according to a quarterly ranking by Colliers International. For good measure, Colliers notes Portland ranks among the top markets for industrial occupancy rates as well.
For downtown office space, Portland ranks seventh in the nation with an overall vacancy rate of 9.39 percent. Coincidentally, it ranks seventh in the nation for suburban office markets too, with a vacancy rate of 11.6 percent.
Raleigh/Durham/Chapel Hill, N.C. has the tightest downtown market in the nation at 6.5 percent. Dallas/Fort Worth, Texas trails at 23.8 percent.
The national average is 12.58 percent.
Bakersfield, Calif. boasts the tightest suburban market in the country at 6.43 percent, while Las Vegas trails the pack at 25.62 percent. Nationally, the average suburban office vacancy rate is 14.99 percent.
Portland ranks 13th for industrial space at 7.29 percent. Honolulu, Hawaii has the tightest market at 4.27 percent. Boston trails at 16.99 percent.